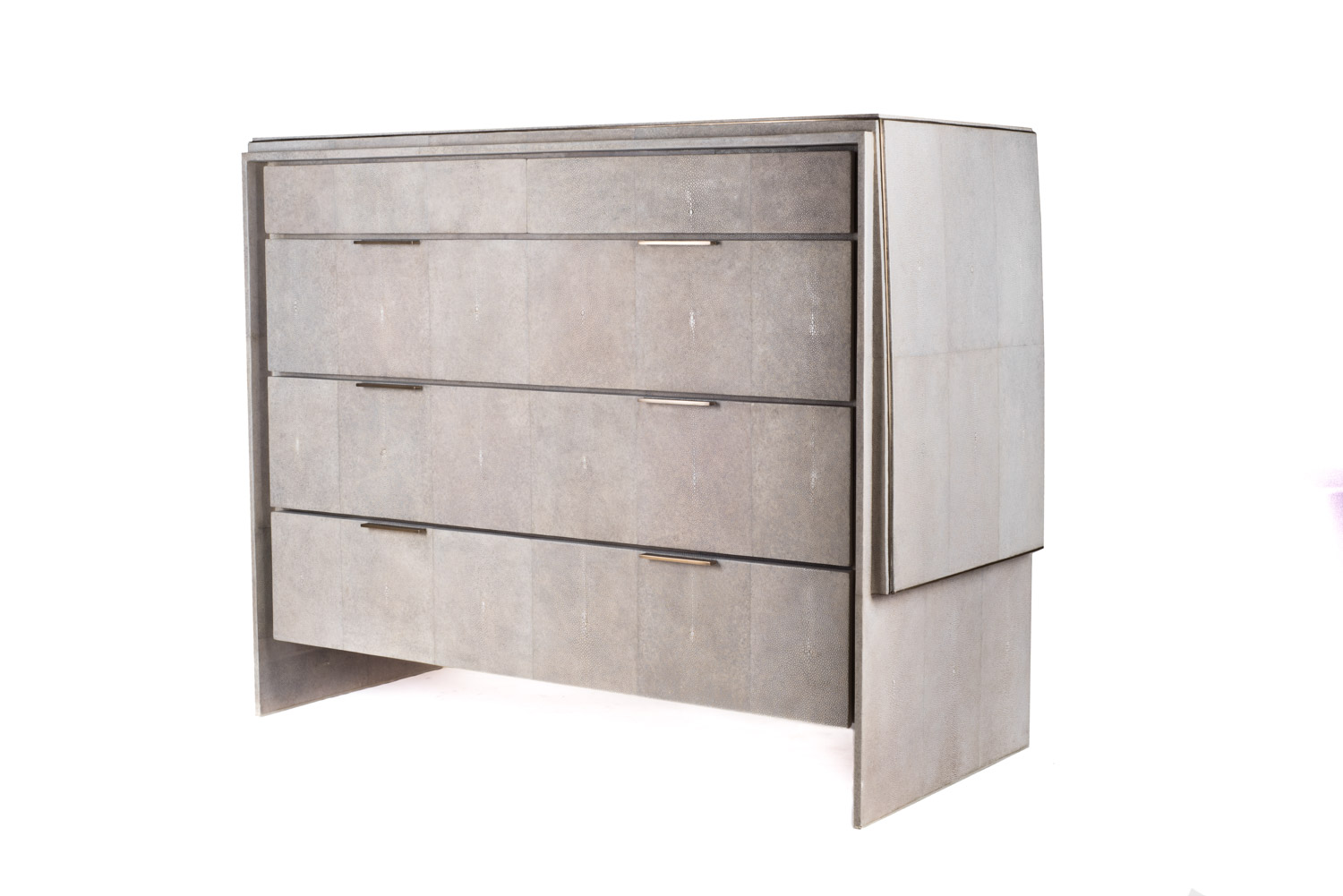 Waldorf Chest of Drawers
The Waldorf chest of drawers in cream shagreen is a beautifully detailed piece with its asymmetric shagreen overlay on top and discreet metal border indentation. The thin bronze-patina brass handles allow for practically while maintaining the incredible aesthetic of the chest. The interior is in gemelina wood veneer. This chest of drawers includes 5 drawers total, two thin drawers on the first shelf that are intended for jewelry followed by 3 deep drawers for clothing. The finish of the shagreen is authentic as it is hand-dyed and the designer calls the finish look: "antique natural shagreen."
· Handmade.
· Antique Natural Shagreen surface, bronze-patina brass handles
· 112 x 50 x 90 cm
· Wipe clean with soft dry cloth.
· Made in Philippines.
Acclaimed design duo Ria & Yiouri Augousti have established themselves since the 1990's as pioneers of modern-vintage style through their luxurious art-deco inspired collections.
The Paris based label has distinguished themselves since their launch, with their iconic use of shagreen mixed with brass and other exotic materials. All furniture is handcrafted by skilled artisans, ultimately making each piece unique.
All shagreen-covered items should be kept out of direct sunlight, color variants may occur on the stingray and other exotic finishes, but this showcases the Parisian label's commitment to creating authentic luxurious products using natural components.
Please Note R&Y Augousti's Terms & Conditions. A notification for shipment charges will follow after the order, items that are not currently in stock will result in a 4-6 week lead time.